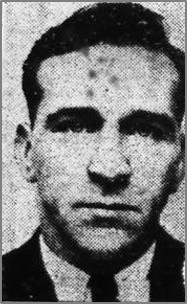 Biography
k-Byrne, James Joseph 27 years old; Unspecified prior military service; Married; Driver; CP (Americans says AF); Received Passport# 362966 on January 22, 1937;  Sailed January 28, 1937 aboard the Aquitania; Arrived in Spain February 11, 1937; Served with the XV BDE, Lincoln BN, Ambulance Driver; Served at Jarama; Killed in action April 27, 1937, Jarama.
---
Source: Scope of Soviet Activity; Americans; Americans and Canadians Killed in Spain Complete list to November 15, 1937; Naomi Myles (wife of James Byrne) to Adolph Ross.
---
Photograph: James Joseph Byrne, NMU's The Pilot, "They Died That Democracy Might Live, July 2, 1937, p. 9.