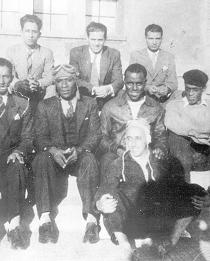 Biography
Peck, James Lincoln Holt. b. September 8, 1912, Stoops Ferry, Pennsylvania; African American; High School education; Single; Pilot and Elevator operator; CP 1937; Domicile 1827 East Street, Pittsburgh, Pennsylvania; Sailed August 11, 1937 aboard the Queen Mary; Arrived in Spain via Espolla on September 8, 1937; Served with the Republican Airforce, ground crew with a coastal aviation unit; Returned to the US in December 1937 aboard the Aquitania; WWII Merchant Marine; d. February 6, 1996, California.
---
Sources: Cadre; Figueres List; African Americans; Aviators. Code A
---
Biography:  James Lincoln Holt Peck was an African-American aviator who served as a pilot in the air force of Republican Spain. Peck was born in Stoops Ferry, Pennsylvania, on September 8, 1912. At a time when there were less that a handful of African American pilots in the United States, Peck obtained a commercial pilot's license and studied at the University of Pittsburgh for two years. Despite his education and flying experience, Peck's applications to the U.S. Air Corps and Navy flying schools were rejected. Unable to support himself as a pilot, Peck worked for a time as a professional musician and as an elevator operator in New York. Peck joined the Communist Party in 1937. On August 11, 1937, Peck along with Paul Williams, another black pilot, left for Europe aboard the Queen Mary. Once in Spain, they were integrated into the Spanish Air Ministry rather than being organized into a separate international unit. Peck was commissioned as a lieutenant in the Republican Army Air Force of Spain. Williams and Peck were sent to Valencia for an intensive refresher and ground training courses. Neither pilot, however, was allowed to fly in Spain. The completion of their training coincided with the arrival of Spanish pilots who had been trained in Russia and France. Consequently, all international pilots were summarily withdrawn. Williams and Peck agreed to act as ground crew at a coastal base. Both men were repatriated along with the other international volunteers in December 1937. Following his return, Peck made appearances and gave lectures at American Legion Posts in New York and Pittsburgh; he also wrote stories about his experiences in Spain for Harper's, Popular Aviation, Scientific American, and other magazines and authored two books on aviation, Armies with Wings and So You're Going to Fly. During World War II Peck served in the Merchant Marine. He died in San Diego in May 1996. ~ Chris Brooks
---
Photographs:
James Peck is in the second row, second from left. To his left is Paul Williams. Photo taken during ground training. Photograph courtesy Kurt Baker.
---