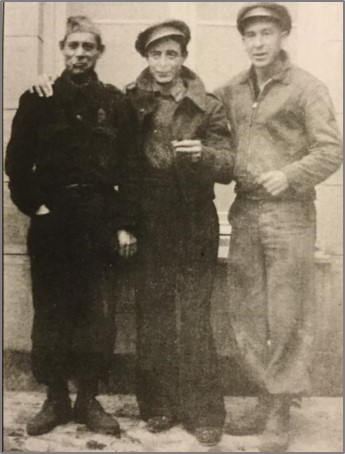 Biography
Thornton, James Nathan
. (Nate); b. January 14, 1915, Oasis, Millard County, Utah; Father Mark Binns Thornton (1893-1974), mother Mary Alice Ide (1893-1928); Attended Commerce High School in San Francisco, California through the 11th grade; CCC 1934-35; Single; Carpenter, Driver, and Seaman (SUP); YCL 1932; Received Passport# 25484, San Francisco series, on March 12, 1937 which listed his address as 1332 Geary Street, San Francisco, California; Sailed on March 27, 1937 aboard the
Ausonia
(
Paris
); Arrived in Spain on April 8, 1937; Served with the XIII BDE, Sainitaire; Albacete Auto Park, XV BDE's ambulance service on the Cordoba Front, Quinto, Ejericito de Tren (Regiment de Tren); During the winter of 1937 served in a Spanish training base as a driver; Served at Brunete, Aragon, Teruel, and Ebro Offensive; Returned to the US on December 15, 1938 aboard the
Paris
; Married Phyllis Golland (1918, England-1984) in 1939, children Joan Thornton (1939-1970), Loren Dean Thornton (1942-), and Leslie Anne Thornton (1954-2010); WWII Civilian Shipyard Worker in Wilmington Ship Yards, Wilmington, California; Freelance Photographer, Married Corine Hodges Thornton on October 6, 1988 Fort Point, San Francisco; Founding member of the San Francisco Post of VALB; Active in peace and labor activities throughout his life; Traveled to Spain, the Soviet Union and Cuba in 1992 and 1993 as part of veterans for peace delegations; Grandmothers For Peace, d. January 2, 2011, Hayward, California; Son of Mark Thornton.
---
Siblings:
sister Bernyce (Bernice) Alice Cordoba (1916-2003) and brother Charles M. Thornton (1919-1970).
---
Sources:
Sail; Scope of Soviet Activity; RGASPI Fond 545, Opis 6 Delo 572, ll. 33 (fiche); Opis 6, Delo 1001, ll. 6-9; Harriman; ARP Survey Respone; L-W Tree Ancestry. Code A
---
Family Bonds: American Fathers and Sons in the Spanish Civil War
, By Chris Brooks and Lisa Clemmer,
The Volunteer Blog
, February 27, 2018.
---
Photographs:
Two unidentified Spanish volunteers and Nathan Thornton. Nathan James Thornton. Veterans of the Abraham Lincoln Brigade Photograph Collection; ALBA Photo 15; Series I Photographs 1930s-1990s, Box 3, Folder 54. Tamiment Library/Robert F. Wagner Labor Archives. Elmer Holmes Bobst Library, 70 Washington Square South, New York, NY 10012, New York University Libraries.; Nate Thornton at Grandmothers Against the War, by Richard Bermack.
---