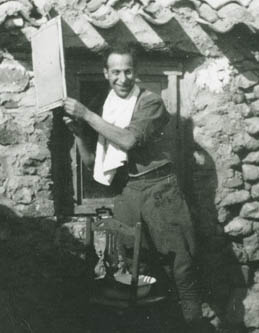 Biography
Neugass, Isidore James Newman
b. January 29, 1905, New Orleans, Louisiana; AMB; Phillips Exeter; Father Edwin Abraham Neugass (1876-1921), mother Miriam (Newman) Neugass (1878-1955); Academy and Yale University, College education; Divorced (married Helen Wiseman (1905-?) on June 22, 1928); Writer; CP 1932, Spanish CP; Received Passport# 481851 (481881) on October 23, 1937 which listed his address as 3915 49th Street, Queens, New York; Sailed November 4, 1937 aboard the
Queen Mary
; Part of the 10th AMB Group under Dr. Eloesser; Arrived in Spain on November 15, 1937; Served with the Republican Medical Services, Villa Paz and as a front line ambulance driver; Served at Teruel and the Retreats; Returned to the US on April 14, 1938 aboard the
Ile de France
; Married Myra Chavelle on September 30, 1940 in NYC; d. September 7, 1949, NYC, heart attack.
---
Siblings:
brother Edwin A. Neugass, Jr. (1909-1965), sister Bessie Neugass (1903-1989).
---
Sources:
Scope of Soviet Activity; Repatriation List (3/25/1938, ll. 143 noted as special mission); RGASPI Fond 545, Opis 6, Delo 953, ll. 51-52; ALBA PHOTO 12 James Neugass Photographs; ALBA 262 James Neugass Typescript: "Journal of an American Ambulance Drver in Spain"; Alan Wald,
"The Jorney of James Neugass,"
Solidarity
(website) [review with additional information on Neugass]; James Neugass,
War is Beautiful
(2008), and Rain of Ashes (1949); L-W Tree Ancestry.  Code A
---
Biography
In 1937, James Neugass, a poet and novelist praised in the New York Times, joined 2,800 other passionate young Americans who traveled to Spain as part of the Abraham Lincoln Brigade: an unlikely mix of artists, journalists, industrial workers, and intellectuals united in their desire to combat European fascism. Isidore James Newman Neugass was born in New Orleans, January 29, 1905. He came from a well to do Jewish family. Neugass began writing as a teenager. "I have been writing poetry since I was seventeen," he stated in 1933, "lots of it and nothing but it." James Neugass attended Yale, Harvard, and Oxford and worked as a book reviewer, shoe salesman, social worker, and fencing coach before shipping off to Spain when he was 32 to be an ambulance driver for the American Medical Bureau to Save Spanish Democracy. Although rumors persisted over the years that Neugass had written a memoir, the manuscript did not come to light for sixty years, until a bookseller discovered it among papers in a New England house once occupied by the radical critic and editor Max Eastman. The memoir combines fast-paced accounts of darting onto battlefields to pick up the wounded with elegiac renderings of days spent "on alert" in an ever-changing series of sharply observed Spanish towns, enduring that most difficult of wartime activities: waiting. Co-editors and ALBA board members Peter N. Carroll and Peter Glazer worked with the Neugass family and New Press to publish the memoir now for the first time. War Is Beautiful (2008) is poised to take its place alongside works by Erich Maria Remarque, Irène Némirovsky, Wilfred Owen, and George Orwell as a transcendent contemporaneous rendering of wartime life. - Courtesy Tamiment Library, NYU.
---
Photographs:
James Neugass. ALBA/VALB; and Yale Yearbook photograph, L-W Tree Ancestry.
---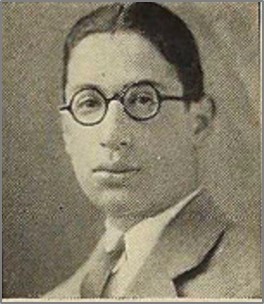 a