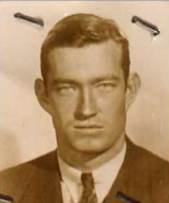 Biography
Doyle, James Peter
b. March 2, 1910, Brooklyn, New York; Father James A. Doyle (1883-1939), mother Margaret (Conneally) Doyle (1891-?); Single; Seaman; CP; Received Passport# 377196 on March 22, 1937 which listed his address as 3205 Clarendon Road, Brooklyn, New York; 29 years old; Sailed April 5, 1937 aboard the
Britannic
; Arrived in Spain on April 29, 1937; Served with the XV BDE, Plana Mayor, Transmissiones; Deserted; Returned to the US on September 19, 1937 aboard the
Sarcoxie
; Married Mary, sons James P. Doyle, Jr. and John J. Doyle; d. September 6, 1980, Pinellas, Florida, cremated.
---
Siblings:
sister Lorene Doyle Roberts (1917-1999).
---
Source:
Scope of Soviet Activity; Cadre (under Doyle, Peter James); Washington; USSDA 2:0502, 53:0842. Code A
---
Photographs:
James Peter Doyle in three photographs from his 1935 Application for Seaman's Protection Certificate, L- W Tree Ancestry.
---