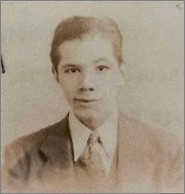 Biography
k-Bajac, Slavo James (Bajac, James Slavo); February 11, 1912, Pittsburg, Pennsylvania; Father Joseph Bajac, (b. Croatia-deceased); Received Passport# 482176 on October 24, 1937 which listed his address as 144 West 104th Street, NYC; Sailed November 3, 1937 aboard the Manhattan; Arrived in Spain via Massanet on November 15, 1937; Served with the XV BDE, Lincoln-Washington BN, rank Soldado, killed in action March 10, 1938 in Belchite during the Retreats.
---
Source: Scope of Soviet Activity; BN 58 Retreats; Figueres List; L-W Tree Ancestry.
---
Photograph: Slavo James Bajac, Passport Photograph, 1937.