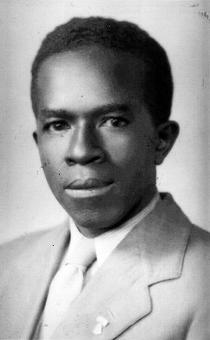 Biography
Yates, James b. August 9, 1906, Quitman, Mississippi; African American; Married (Separated); Rail Road Worker; CP 1936 branch secretary, Dining Car Employee Union; Received Passport# 365628 on February 5, 1937 which listed his address as 239 West 111th Street, NYC and 229 W 3rd Street, NYC (Quitman, Mississippi); Sailed February 20, 1937 aboard the Ile de France; Arrived in Spain on March 17, 1937; Served with the International Auto Park in Albacete, Usine #1 until July 1, 1937; Assigned to the XI BDE Transport as a Driver until September 1937; Sent to hospital for illness; Repatriated January 1938; Returned to the US on February 16, 1938 aboard the Lafayette; WWII US Army; d. November 7, 1993, NYC.
---
Sources: Sail; Scope of Soviet Activity; Cadre; Repatriation List (1/29/1937, ll. 99); RGASPI Fond 545, Opis 6, Delo 1017, ll. 11-12; "James Yates, 87, Head of N. A. A. C. P. Chapter," New York Times November 11, 1993
---
Biography James Yates was born in Brown Settlement, Mississippi in 1906. In his teens, Yates road the rails to Chicago where he found work in a meatpacking plant. He was later employed as a railroad dining car waiter and was a founding member of the Dining Car Waiter's Union. Yates was active in the unemployment councils, the Scottsboro defense campaign, and the movement to free Angelo Herndon. During the 1930s, Yates moved to New York to find work. During this period, Yates became involved in Communist activities; he joined the party in 1936 and served as Branch Secretary. Yates departed for Europe, on the Ile de France, on February 20, 1937. In Spain, Yates was assigned to transport units. Hospitalized because of illness, Yates returned from Spain aboard the Lafayette on February 16, 1938. Yates served in the U.S. Army during World War II. He trained at Fort McClellan in Alabama and then served in the Signal Corps at Davis Monthan Field near Tucson, Arizona. In February 1943 Yates was transferred from his original unit just before it was shipped overseas. In a letter to the VALB office he reported having learned from good sources it was because I fought in Spain. Following the war Yates studied radio repair and in 1948 opened his own radio repair business. During the 1960's he was an active member of the International Brotherhood of Railroad Porters and head of the Chelsea-Village NAACP branch in New York. In the 1986 Yates published his autobiography From Mississippi to Madrid. The following year he was invited to join the Molasses Pond Writers Workshop located in Franklin Maine where he was a writer in residence until 1992. Yates died in October 1993. In 1995, the Molasses Pond Writers Retreat established an annual award in his honor. ~ Chris Brooks
---
Photograph: James Yates, Veterans of the Abraham Lincoln Brigade Photograph Collection; ALBA Photo 15; Series I Photographs 1930s-1990s, Box 3, Folder 91. Tamiment Library/Robert F. Wagner Labor Archives. Elmer Holmes Bobst Library, 70 Washington Square South, New York, NY 10012, New York University Libraries.