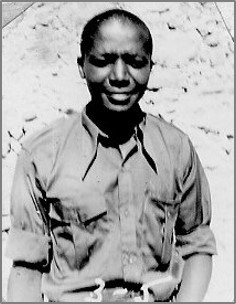 Biography
Wideman, Thomas Jefferson
(Jeff Weiderman), b. May 1, 1906 (May 10, 1906), Philadelphia, Pennsylvania; African American; Father John Wideman; Elementary school education; Prior military service in the ROTC; Divorced from Annie Lee Fortune (1909-?), who he married in December 1927, children Sammie L. Wideman (1928-?) and J. E. Wideman (1935-?); Baker and Cook; Workers Alliance, CP 1931 (1934), unit Agit Prop.; Received Passport# 373577 on March 11, 1937 which listed his address as 1443 North 13th Street, Philadelphia, Pennsylvania; Sailed March 18, 1937 aboard the
Normandie
; Arrived in Spain on April 2, 1937; Served with the XV BDE, Washington BN, Co. 2; transferred to 24th BN on August 20, 1937; Mackenzie-Papineau BN; March 3, 1938 to BDE MG Co.; and BDE Vigilancia; Rank Soldado; Served at Quinto, Belchite, The Retreats, and Ebro Offensive; WIA in head Fuentes de Ebro, 32 days in Benicasim; Returned to the US on December 15, 1938 aboard the
Paris
; WWII US Army enlisted May 15, 1942, released January 25, 1944; Remarried wife Herrine Wideman, step children Rose Marie Wideman, David Wideman, Robert Wideman, and Gary Wideman, sons Jefferson T. Wideman, Jr., Maurice Wideman, and Dyian Wideman; d. January 12, 1989.
---
Sources:
Sail; Scope of Soviet Activity; Cadre; XV BDE, Pay; RGASPI Fond 545, Opis 6, Delo 916, ll. 78-79 contradictory evaluations; Opis 6, Delo 1013, ll. 4-19; African Americans. Code A
---
Box 2, Folder 23, 177_197042 [List of Names] Moscow Fond 545, Opis 5, Delo 197, ll. 42, Oct. 1938. This is a page from Folder 197: Album of 15th International Brigade Presented to the American Communist Volunteers of the 15th Brigade by the Communist Party of Spain. On a two page spread entitle Declaration of the American Negro Comrades eighteen individuals signed the second page.
---
Biography:
Jefferson Wideman (a.k.a. Weiderman) was born in Philadelphia on August 29, 1907. A baker and a member of the United Food Worker's Union, Wideman joined the Communist Party in 1934. He left on the
Normandie
on March 18, 1937. In Spain, Wideman fought at Quinto and Belchite. He returned to the United States, aboard the
Paris
, on December 15, 1938. At ceremonies honoring the Lincoln Brigade, together with battalion commander Milton Wolf, Wideman placed a wreath at the Eternal Light in Madison Square in memory of those who died in Spain. ~ Chris Brooks
---
Photographs:
Jefferson Wideman in Spain, RGASPI Fond 545, Opis 6, Delo 1013, ll. 7;  and Wideman of Vigilancia, 15th IB, May 1938. The 15th International Brigade Photographic Unit Photograph Collection; ALBA Photo 11; ALBA Photo number 11-0032. Tamiment Library/Robert F. Wagner Labor Archives. Elmer Holmes Bobst Library, 70 Washington Square South, New York, NY 10012, New York University Libraries.
---