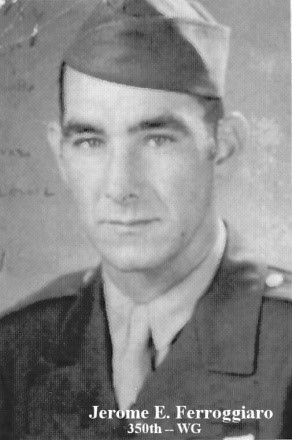 Biography
Ferrogiaro, Jerome Ethan.
(Ferroffiaro); b. November 16, 1912, San Francisco, California; To China at age 5; Italian American/Irish American; Served 6 months in Chinese Nationalist Army and one year in Shanghai Volunteer Corps; Father built armored cars in China; US Army Air Corps, 1933-1938; Married (divorced?); Automobile Mechanic and Soldier of Fortune; No party affiliation; Received Passport# 23680, San Francisco series, on December 10, 1938 which listed his address as 1845 Lake Street, San Francisco, California; Arrived in Spain via Agullana on February 15, 1938; Served with the  XV BDE, Lincoln-Washington BN, MG Co.; Last assignment in Lincoln-Washington Plaza Mayor as BN scout during the Ebro Offensive until Sierra Pandols; Rank Soldado; Returned to the US on December 20, 1938 aboard the
Ausonia
; WWII US Army Air Corps, bomber gunner serving in the 100th Bomber Group, ETO; His aircraft was shot down on October 8, 1943 during the Bremen mission;  Captured after being shot down, he used the name Beard to hide his service in the SCW while he was a POW; He remained in the Air Force after WWII; d. June 18, 1999, Phoenix, Arizona, buried in Golden Gate National Cemetery, San Bruno, San Mateo County, California; Wife May Ferrogiaro.
---
Sources:
  Scope of Soviet Activity; Figueres List; Pay; RGASPI Fond 545, Opis 6, Delo 579, ll 42; USSDA 2:0527, 54:0031; Find-a-Grave# 645447;100th Bomber Group Website http://www.100thbg.com/mainmenus/people/people_04.htm  There is also a longer biographical sketch on the site
http://www.100thbg.com/mainpages/history/history2/ferroggiarodata.htm
; L-W Tree Ancestry.   Code A
---
Photograph:
Jerome Ethan Ferrogiaro, 100th Bomber Group WWII.