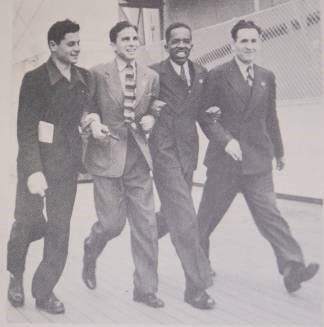 Biography
Drill, Josef (Joe); b. November 20, Polono, Russia; Russian American; Single; Driver; CP 1925; Received Passport# 367-607 which listed his address as 3101 Simond Street, Philadelphia, Pennsylvania; 34 years old; Sailed March 10, 1937 aboard the Washington; Arrived in Spain on May 25, 1937 after serving 40 days in jail for attempting to cross the border; Trained in Tarazona with the Washington BN; Served with the XV BDE, Washington BN; WIA July 7, 1937, in hospital until October 5, 1937; After recovery became Political Commissar for the Tarancon Evacuation Hospital; Returned to the US on February 16, 1938 aboard the Lafayette; WWII US Army joined July 24, 1942 and was discharged March 25, 1943, no overseas service; Married Hanna Robinson in 1940 in Philadelphia, Pennsylvania; d. July 28, 1958, NYC, buried in New Montefiore Cemetery, West Babylon, Suffolk County New York.
---
Source: Cadre; Repatriation List (2/5/1938, ll. 106); RGASPI Fond 545, Opis 6, Delo 883, ll. 9-10; USSDA 2:0503, 53:0858; (obituary note) The Volunteer, No date [Summer 1958?]; Find-a-Grave #149242194.
---
Photograph: Frank Feingerish, Bill Bois, James Yates and Joe Drill. Veterans of the Abraham Lincoln Brigade Photograph Collection; ALBA Photo 15; Series I Photographs 1930s-1990s, Box 1, Folder 65. Tamiment Library/Robert F. Wagner Labor Archives. Elmer Holmes Bobst Library, 70 Washington Square South, New York, NY 10012, New York University Libraries.