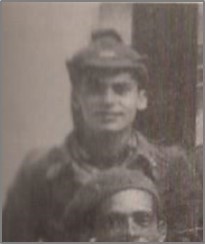 Biography
k-Stone, Joe. (Sheer Isaac Hershkowitz); Jewish; 3 years US Army, Private First Class; Soldier; CP 1931; 23 years old; Arrived in Spain on March 17, 1937; Attended OTS; Then to the XV Brigade, Washington Battalion, Co. 1, Section 2, Section Leader, Sargento; Killed in action July 12, 1937, Brunete.
---
Siblings: brothers Sam Hershkowitz and Hy Hershkowitz.
---
Sources: Americans; Washington; RGASPI.