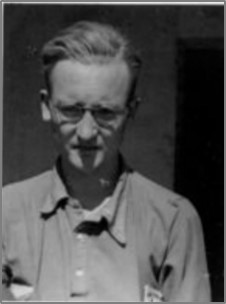 Biography
Penrod, John Arthur
. (Jack); b. December 8, 1913, Birmingham, Alabama; Father John Penrod, mother Eva Leonard; No prior military service; Graduated from the University of Pittsburg, BA English in 1936; Married; Student, Teacher, and Clerk; YCL 1935 and CP 1936, American Student Union CIO; Received Passport# 427752 on May 28, 1937 which listed his address as 324 Vine Street, and 812 Coleman Avenue, both Johnstown, Pennsylvania(23 South 2nd Street, Harrisburg, PA, 332 Somerset Street, Johnstown, PA); Sailed June 2, 1937 aboard the
Aquitania
; Arrived in Spain via Setcases on June 19, 1937; Trained at Tarazona with the Mackenzie-Papineau BN, Co. 2 then in training; Served with the XV BDE, Mackenzie-Papineau BN, Headquarters Company, Sniper Section, Section Leader, Cabo from June 1937; July 1937 transferred to BDE Sanidad; Dispatcher for Ambulances; transferred to 15th Army Corps, Battalion Sanidad, April 30, 1938 to June 15, 1938; Acting Teniente, Rank Cabo, from June-November 1938; Served at Fuentes de Ebro, Teruel, Segura de los Banos, Retreats and Ebro Offensive; Never wounded but was hospitalized for illness Benicasim 2 weeks, Cambrils-Gerona 2.5 weeks and Vals 1 week [uncertain of time period]; Noted as having requested transfer out of infantry after Teruel, breakdown; Returned to the US on December 15, 1938 aboard the
Paris
; WWII US Army, Philippines, Rank Tech 5; d. April 12, 2008, Gainesville, FL.
---
Sources:
Sail; Scope of Soviet Activity; Cadre; Figueres List; Mac-Paps; Pay; RGASPI Fond 545, Opis 6, Delo 961, ll. 47-54; (obituary) Carol Giardina, "John Arthur 'Jack' Penrod, 1913-2008,"
The Volunteer
, Volume 25, No. 2, June 2008, pp. 21-22, L-W Tree Ancestry. Code A
---
Photographs:
John Arthur Penrod in Spain, RGASPI Fond 545, Opis 6, Delo 961; and.Veterans of the Abraham Lincoln Brigade Photograph Collection; ALBA Photo 15; Series I Photographs 1930s-1990s, Box 2, Folder 89. Tamiment Library/Robert F. Wagner Labor Archives. Elmer Holmes Bobst Library, 70 Washington Square South, New York, NY 10012, New York University Libraries; and school photo from L-W Tree Ancestry.com.; John Penrod, by Richard Bermack.
---