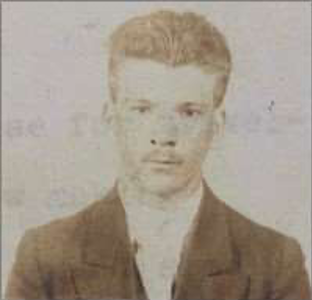 Biography
k-Ramatowski, John Augustus
. (Ramatowekin; Ramotovski; Ramatosky); b. August 28, 1914, Panama, Bond County, Illinois; Polish American; Father Peter Anthony Ramatowski (1884 -1968), mother Helen T. Kwiatkowski (1892-1939); CCC; 8th grade education; Single; Machinist and Tool and Die Maker; YCL 1937; Received Passport# 417280 on May 19, 1937 which listed his address as 2540-A University Street, St. Louis, Missouri (Route 1 Plainview, Illinois); Sailed May 29, 1937 aboard the
Britannic
; Arrived in Spain on June 22, 1937; Served with the XV BDE, Mackenzie-Papineau Battalion in training; Transferred to Lincoln-Washington BN, MG Co.; Then to 24th BN, American Co.?; Back to Lincoln-Washington BN; Rank Soldado; Served at Belchite, Fuentes de Ebro, Teruel, Seguro de los Banos, Retreats; Killed in action April 3, 1938, Gandesa, during the Retreats; State Department letters raise questions, Mother inquired about son's welfare and repatriation of son; Advised was alive and well as of April 19, 1938; Subsequently reported missing April 3, 1938, Gandesa; In 1949 the FBI opened an investigation based on a report by a cousin who was told that John Ramatowski had returned from Spain under an assumed name; The FBI conducted an investigation over a two-year period and were unable to verify the information.
---
Siblings:
sisters Eva Victoria Ramatowski (1910-2002), Josephine Ramatowski (1912- 2001), Gertrude Patricia Ramatowski (1918-1992), brothers Adam Valentine Ramatowski (1908-1959) and Pete Ramotowski (1928-).
---
Sources:
Scope of Soviet Activity; Cadre; BN 58 Retreats; RGASPI Fond 545, Opis 6, Delo 967, ll. 39 (ver arch gen amer); USSDA 2:0852, 58:0961; FBI report on John Ramatowski; L-W Tree Ancestry (includes several letters home). Code A
---
John Ramatowski Letters From Spain
, by Chris Brooks, The Volunteer Blog, posted February 1, 2020.
---
Photograph:
John Augustus Ramatowski, Passport Photograph, 1937.