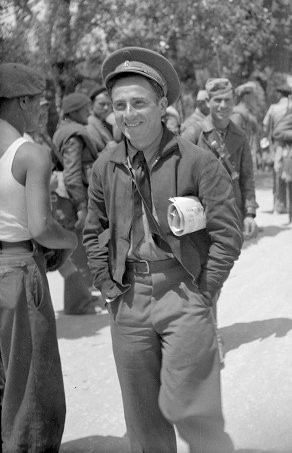 Biography
Gates, John (Israel Ragenstrich, Sol Ragenstreif); b. September 28, 1913, New York, Jewish; 1 year City College of New York on a scholarship, Single; Party Organizer and Party Functionary, CP April 1933 section organizer and YCL 1931, Received Passport# 362763 on January 21, 1937 which listed his address as 144 South Forrest Street, Youngstown, Ohio, and 1981 East 177th Street, NYC, Sailed February 6, 1937 aboard the Paris; Arrived in Spain on February 16, 1937, Served with the 86th BDE, Brigade Adjutant (Commissar); Base Political Commissar; XV BDE, Estado Mayor, Commissar for BDE Rank Lieutenant Colonel, Returned to the US on December 20, 1938 aboard the Ausonia; WWII US Army, 6th Armored Division, 59th Armored Field Artillery as cadre; transferred to a service company when the unit went overseas, Gates appealed the transfer but lost, Later sent to Aleutian Islands and assigned to 209th Field Artillery, remained with the unit until it rotated back to the United States in 1944, Gates volunteered for Airborne, Joined the 17th Airborne Division in Germany after completing jump school, He made one jump with the unit on a non-military objective, Discharged 1946; Editor, Daily Worker; Left Communist Party in 1958 in a losing battle with the party leadership; d. May 23, 1992, Miami, Florida.
---
Sources: Sail; Scope of Soviet Activity; Cadre; Pay; RGASPI; John Gates, Story of an American Communist; John Gates, Evolution of an American Communist; New York Times, "John Gates, 78, Former Editor Of The Daily Worker, Is Dead" Obituary. http://en.wikipedia.org/wiki/John_Gates Code A
---
Biography: John Gates, born Solomon Regenstreif (1913, New York City, New York) – 23 May 1992, Miami Beach, Florida) was a prominent American Communist from 1939 to 1958. While a student at City College of New York, he became interested in communism and joined the Young Communist League, USA (YCL). Gates was active in the campaign to free the Scottsboro Boys. Upon leaving college, he first worked with unemployed workers in Ohio. When the Spanish Civil War broke out, he joined the Abraham Lincoln Brigade and fought in Spain. He rose to battalion political commissar of the Lincoln-Washington Battalion and was known as a strict disciplinarian. He later admitted he had gone somewhat overboard. In 1938, he was involved in the controversial decision to execute a deserter, Paul White. Returning to the United States, Gates became leader of the Young Communist League. Later, he was the editor of the Daily Worker and, in an editorial policy which put him at odds with the Party leadership, he took liberal positions embracing Nikita Khrushchev's criticisms of Stalin and opposing the Soviet Union's suppression of the 1956 Hungarian Revolution. Party leaders were particularly upset by his support of Howard Fast, a prominent writer who was quite critical of the Soviet Union and soon after also left the Communist Party. However, the Daily Worker was in deep trouble with significant losses in circulation due to a general disenchantment with communism, by both workers and intellectuals, and pressure from McCarthyism. Confronted with deep deficits and its inability to control Gates, on 22 December 1957 the Party suspended publication of the paper as a daily, the last issue appearing 13 January 1958. Gates resigned from the Party in January 1958, claiming that it had "ceased to be an effective force for democracy, peace, and socialism in the United States." - Wikipedia
---
Photograph: John Gates, XV Brigade Commissar, May 1938. The 15th International Brigade Photographic Unit Photograph Collection; ALBA Photo 11; ALBA Photo number 11-0972. Tamiment Library/Robert F. Wagner Labor Archives. Elmer Holmes Bobst Library, 70 Washington Square South, New York, NY 10012, New York University Libraries.