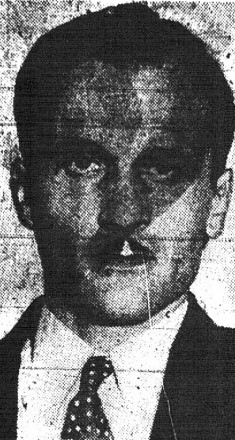 Biography
Honeycombe, John Gordon (Honeycombe, John D.); b. May 29, 1904, Ilion, New York (1903; May 25, 1906); Divorced; Driver and CP organizer; CP 1933 s. agitprop; Received Passport# 30936, San Francisco series, on August 5, 1937 which listed his address as 1407 West 11th Street, Los Angeles, California (203 7th Avenue, Waterslist (?), New York); Sailed August 14, 1937 aboard the Champlain; Arrived in Spain via Setcases on August 27, 1937; Served with the XV BDE, Lincoln-Washington BN; Rank Soldado; Reported MIA Albalate, during the Retreats, with note "arrestado (iba a Barna.)," Deserted during the Retreats, sought assistance in returning to the US through the American Consulate in Marseille, France; Returned to the US through the port of Boston on June 11, 1938 aboard the Sarcoxie; d. March 8, 1955 in Los Angeles, California.
---
Sources: Sail (under Honeycombe, John D.); Scope of Soviet Activity; Cadre; Figueres List; XV BDE; BN 58 Retreats; RGASPI Fond 545, Opis 6, Delo 552, ll. 58 (fiche); USSDA 2:0650, 55:0946; L-W Tree Ancestry; Daily Worker April 8, 1938; "Yanks Stranded in Spain War," Schenectady Gazette, April 20, 1938, p. 5; "Score of Americans Stranded in Spain," AP, Daily News (NYC), April 20, 1938, p. 287.
---
Photograph: John Honeycombe. Photograph from clipping Washington Post, April 8, 1938.