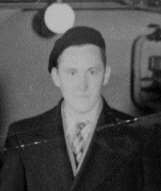 Biography
Kahler, John Henry
 (Kahler, Richard James); b. March 30, 1905 (1915), Philadelphia, Pennsylvania; Father Charles David Kahler (1895-1922), mother Esther Victoria Kahler-Landis (1895-1970); Single; Painter and Driver; CP 1936; Received Passport# 366-991 on February 12, 1937 which listed his address as 915 North 7th Street, Philadelphia, Pennsylvania, and RFD no. 2, York, Pennsylvania (1052 Montrose Avenue, York, Pennsylvania); Sailed March 10, 1937 aboard the
Washington
; Arrived in Spain on March 21, 1937; Returned to the US on December 15, 1938 aboard the
Paris
; Later changed his name to Richard James Kahler; Married Henrietta Hieker (1923-2011) in 1940, sons James Matthew Kahler (1941-1942), Luke A. Kahler, Samuel R. Kahler, daughters Charolette Louise Buckingham (1943-2013), Colleen J. Fitzsimmons, Cynthia M. Herbst, and Julia E. Kinard; d. July 19, 2011, York, Pennsylvania, buried in Susquehanna Memorial Gardens in York, PA.
---
Sibling:
Brother George W. Kahler (1918-1925).
---
Source
: Sail; Scope of Soviet Activity; Cadre; RGASPI ;Find-a-Grave #73579667. Code A
---
Photographs:
John Kahler, detail from a group photograph taken aboard the Paris; December 1938. Two post-war photographs taken after changing his name to Richard James Kahler; Daniel Clatterbaugh and John Kahler.
---