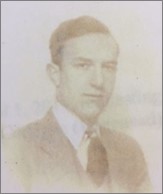 Biography
k-Corrigan, John Horton Aniclete (Corrigan, Anicleto); b. January 13, 1916, Newark, Essex County, New Jersey; Irish American; Father John F. Corrigan (b. Ireland to the US 1878, Physician, naturalized 1899); Attended New York University; Married; Student and Truck Driver; YCL 1935; Received Passport# 366427 on February 10, 1937 which listed his address as 344 Lafayette Street, Newark, New Jersey; Sailed February 17, 1937 aboard the President Roosevelt; Mother and brother requested that State Department Representative contact Corrigan when he landed in France; Samuel Hamilton Wiley boarded the President Roosevelt and interviewed Corrigan, Corrigan stated he was not going to Spain and would stop at the Consulate in the morning; He landed and left for Paris on the night train on February 27, 1937; Arrived in Spain on March 7, 1937; Served with the XV BDE, Mackenzie-Papineau BN, MG Co.; Later with the Lincoln-Washington BN; Rank Soldado; OTS graduated January 1938; Killed in action March 13, 1938, Belchite, during the Retreats; Harry Fisher stated that Corrigan and Paul McEchron stayed behind as a rear guard during the retreat and were killed or captured and executed.
---
Source: Scope of Soviet Activity; Cadre; BN 58 Retreats; RGASPI; USSDA :0469; POW. Code A
---
Photograph: John Horton Corrigan, Passport Photograph, 1937.