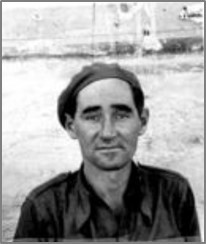 Biography
Nelson, John J 35 years old; b. Frisland, Norway; Father John Nelson; No prior military experience; Grammar school education; Single; Seaman (NMU); CP 1934 (February 1935), section organizer; Domicile 6301-23rd Avenue, Brooklyn, New York; Arrived in Spain via Setcases on June 21, 1937 (June 24-July 18); Trained with Instruction BN, Co. 4, Tarazona; Served with the XV BDE, Lincoln-Washington BN, June 1937-July 6, 1938; Then to 35th Division Special MG BN until October 5, 1938; Rank Sargento; Served at Quinto, Belchite, Fuentes de Ebro, Teruel, Segura de los Banos, Retreats, and Ebro Offensive; WIA October 23, 1937 Fuentes de Ebro and March 10, 1938 Belchite, Retreats; Pay list has a John Nelson, Lincoln-Washington BN, Machine Gun Company, Rank Cabo May 1938, Sargento September 1938; Fate uncertain.
---
Sources: Cadre; BN 58 Retreats (under Nelson, Joseph); (may be Joseph VanDyke Nelson below); Figueres List; RGASPI Fond 545, Opis 6, Delo 561, ll. 19 (ver ar gen can); Opis 6, Delo 953, ll.15-22.
---
Photograph: John Nelson in Spain, RGASPI Fond 545, Opis 6, Delo 953.