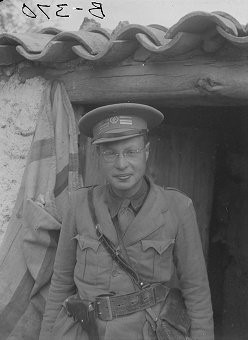 Biography
Simon, John Leopold
. ("Doc"), b. January 18, 1913, Philadelphia, Pennsylvania; Jewish; Single; Graduated from Gratz High School, 1930 and the University of Pennsylvania, 1933. Medical Student; CP 1933 (1935); Passport# 364014 which listed his address as 35-10 N. 23rd Street, Philadelphia, Pennsylvania; Arrived in Spain on February 17 (14), 1937; Served with the XV Brigade, Lincoln Battalion, Battalion doctor; Later English Battalion, Doctor; Last unit (July 1938) Lincoln-Washington Battalion, Doctor; Rank Captain; Served at Jarama and Brunete; Returned to the US on November 2, 1938 aboard the
Paris.
---
Sources:
Cadre; Americans; Lincoln; Pay; RGASPI; ALBA 264 John L. Simon: FOIA Files; (obituary) Cary Nelson, "John L. Simon,"
The Volunteer
, Volume 22, No. 2, Spring 2000, p. 20; L-W Tree Ancestry.
---
Biography
: "... When Simon returned to the U.S. late in 1938 he took up his formal medical training again, receiving his M.D. degree in 1940. He interned in neurology at Kings County Hospital in Brooklyn, then became a resident in psychiatry at the New York State Psychiatric Institute and Hospital. A residency in neurology followed at New York's Mount Sinai Hospital in 1943 and a residency in psychiatry at Bellevue Hospital in 1944. From 1944 to 1954 he taught both neurology and psychiatry at New York University Hospital, meanwhile maintaining a private psychiatric practice. He published widely in scientific journals for 30 years. Meanwhile he was writing extensively in his personal journals about a subject he was passionately interested in for much of his adult life—the relationship between Marxism and psychoanalysis. Like many progressive analysts, he believed psychoanalysis could never cure its patients unless it addressed the social sources of illness. For Simon that meant addressing the class structure and its attendant inequities. In the late 1940s he wrote and edited Psychiatric Newsletter to help those in psychiatry contribute toward the working class struggle against capitalism. The newsletter attracted the attention of the FBI, which kept a file on it and conducted surveillance of Simon. The next few years saw him active in the struggle to aid those of his Lincoln Battalion comrades and others who were victims of the McCarthy-era witch hunts. In 1952 he was Chairman of the Committee to Defend Lincoln Veterans. Some of our readers may remember receiving letters about imprisoned Lincoln vet Steve Nelson co-signed by John Simon and Moe Fishman. That year he was also listed as a sponsor on the stationary of the Committee to Secure Justice in the Rosenberg Case. Simon's archives include carbon copies of the letters he sent about these and other causes, among them those of staff physicians being fired for political reasons. There is also one original letter, returned because the federal prison authorities refused to deliver it: a birthday greeting to John Gates. A few years later Simon headed south, first to East Louisiana State Hospital in Jackson, Louisiana (1956- 1958), and then to the State Psychiatric Hospital in Rio Piedras, Puerto Rico (1958-1964). While in Puerto Rico Simon was repeatedly struck by the legal impediments to delivering medical care. His response was to earn a law degree by studying at night; he received his L.L.B. from the University of Puerto Rico in 1972. He also taught at the University of Puerto Rico in San Juan from 1958-1959 and again from 1961 to 1974 before returning to private practice in New York City. His medical/legal publications in these years often took up social issues, including his long essay on "The Virginity Cult in the Civil and Criminal Law of Puerto Rico." Like so many civil war veterans, Simon lived his life on the left, championing progressive movements in his chosen career. He died on December 20, 1999. At the time of his death he was working on an autobiography. He is survived by his former wife, Ruth B. Simon, by his wife Myrtle, and by six children—three daughters and three sons. Two of Simon's sons were named after vets who lost their lives in Spain, British commissar Wally Tapsall and American commander Bob Merriman. Simon had 13 grandchildren" - Cary Nelson, from his obituary in The Volunteer.
---
Photograph:
Captain John Simon, Doctor, British Battalion, April 1938. The 15th International Brigade Photographic Unit Photograph Collection; ALBA Photo 11; ALBA Photo number 11-0157. Tamiment Library/Robert F. Wagner Labor Archives. Elmer Holmes Bobst Library, 70 Washington Square South, New York, NY 10012, New York University Libraries.; Hy Tabb and Dr. John Simon, April 26, 1997, by Richard Bermack.
---