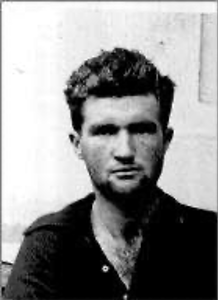 Biography
Lucid, John Michael
. b. August 27, 1915, Everett, Washington; Graduated from the University of Washington, BA in English and Journalism; Single; Journalist; CP September 1937; Received Passport# 492287 on January 11, 1938 which listed his address as 433 18th Avenue North, Seattle, Washington; Arrived in Spain via Massanet on February 8, 1938; Served with the DECA March 1-15, 1938; Valencia Instruction March 15-April 13, 1938; XV BDE, British Anti-tank Battery April 13-October 1, 1938; XV BDE, 57 British BN, Co. 5, Mortars; Served at Ebro Offensive; Returned to the US on December 15, 1938 aboard the
Paris
; d. June 26 1977, El Dorado, California, buried in  Holyrood Catholic Cemetery, Shoreline, King County, Washington.
---
Biography:
John Michael Lucid (nicknamed Jack) was born in Everett, Washington in 1915. Before joining the International Brigades in the Spanish Civil War, Lucid earned his B.A., studying literature, journalism and history. He worked in food canning factories in Mexico and Alaska and as a railway technician, among other jobs. A member of the Newspaper Guild and the Communist Party, Lucid aspired to become a reporter for a left-wing publication. Lucid sailed to France in February 1938 and hiked over the Pyrenees into Spain. After training he was assigned to the British Battalion as an anti-aircraft and anti-tank observer. He saw action in the battles of Ebro and Gandesa, where he was put in charge of a trench-mortar unit, and was hospitalized briefly in March 1938. He returned aboard the Paris in December 1938 when the International Brigades were evacuated out of Spain. Lucid joined the U.S. Army in October 1942. Although he wanted to be sent overseas to join a combat unit, for months he was shuffled from U.S. base to U.S. base performing menial tasks. Finally he shipped out to North Africa and fought with the Rangers in Italy, where he won a Silver Star. Lucid died in 1977. Bio courtesy of Tamiment Library, NYU.
---
Sources:
Scope of Soviet Activity; Figueres List; RGASPI; ALBA 206 John M. Lucid Papers; Pacific NW; L-W Tree Ancestry; Find-a-Grave 125662616. Code A
---
John Lucid Interview
(Kristen and Robert Lucid), ALBA V 48-116, undated, Manny Harriman Video Oral History Collection; ALBA VIDEO 048; box number 10; folder number 24; Tamiment Library/Robert F. Wagner Labor Archives, New York University.
---
Photographs:
John Lucid in Spain RGASPI Fond 545, Opis 6, Delo two from 938 and one from 165.
---