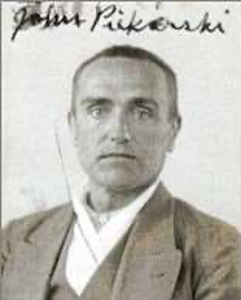 Biography
Piekarski, John. (Piatagorski; Pickarski); b. March 12, 1898, Kumisk Lomza (Kanalsk) Poland, Naturalized August 18, 1918, Camp Dix, New Jersey; Polish American; POW; Father Andrew J. Piekarski (1850-1938), mother Katheine Piekarski (1870-1942); WWI served in the 10th Division, 50th Infantry, Rank Private First Class; Food worker; CP 1935 (1937) and Spanish CP; Received Passport# 357626 on December 16, 1936 which listed his address as 345 Wythe Avenue, Brooklyn, New York; Sailed December 26, 1936 aboard the Normandie; Arrived in Spain on January 3, 1937; Served with the XV BDE, Lincoln and Lincoln-Washington BN; Captured March 10, 1938, Belchite, during the Retreats; Exchanged April 22, 1939; Returned to the US on May 6, 1939 aboard the President Harding; WWII enlisted in the US Army July 25, 1942; d. December 23, 1943, Norwich, Connecticut, not service related, buried in the Long Island National Cemetery.
---
Siblings: brothers Stanley Piekarski (1886-1947), Dominic Piekarski (1888-1943), and Thomas Piekarski (1895-1950).
---
Sources: Sail; Scope of Soviet Activity; Cadre; RGASPI; L-W Tree Ancestry; Find-a- Grave # 2786098. Code A1
---
Photograph: John Piekarski, Replacement passport issued 1939 after his release.