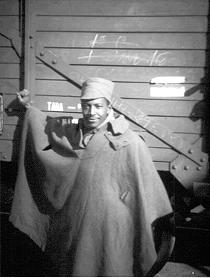 Biography
k-Hunter, John Porter (Johnson, Roosevelt in Vaughn Love's Memoir); b. Bessemer, Alabama; African American; High School education; Steel Worker; Domicile Buffalo, New York; Non-Party; Sailed April 10, 1937 aboard the Rotterdam; Arrived in Spain on May 5, 1937; Served with the XV BDE, Washington BN, Co. 3, Section 2; Lincoln-Washington BN; Served at Brunete; Deserted September 15, 1937 along with Sol Feldman, Murray Krangel, and Henry Plotnick and was returned to the XV BDE under guard; Served at Fuentes de Ebro and the Retreats; Believed to have been killed in action during the Ebro Offensive.
---
Sources: Washington; RGASPI Fond 545, Opis 6, Delo 849, ll. 4, Special List for Personnel Service, Deserters List of Those Now in Spain, January 16, 1938; Opis 6, Delo 913; Opis 6, Delo 913, ll. 38; USSDA; African Americans; Vaughn Love unpublished Autobiography [Hunter is identified in one version as Roosevelt Johnson]. Code A
---
Biography:  John Porter Hunter was born in Bessemer, Alabama, in 1906. He completed high school, was a metal worker and worked in steel mills in Bessemer and in Buffalo, New York. Hunter departed aboard the Rotterdam, on April 10, 1937. He fought with the Lincoln Battalion as a machine gunner during the Brunete offensive. Wounded in action Hunter took part in the fighting at Fuentes de Ebro and during the Retreats. Veterans Vaughn Love and Ralph Thornton recalled that, during the Retreats, Hunter carried his 100-pound gun for over two weeks through forests and hills, eventually constructing a cane raft in order to float it across a river. Hunter was missing in action in July 1938. ~ Chris Brooks
---
Photograph: John Hunter, December 1937. The 15th International Brigade Photographic Unit Photograph Collection; ALBA Photo 11; ALBA Photo number 11-0929, Tamiment Library/Robert F. Wagner Labor Archives. Elmer Holmes Bobst Library, 70 Washington Square South, New York, NY 10012, New York University Libraries.