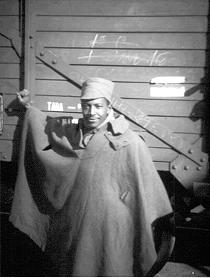 Biography
k-Hunter, John Porter (Johnson, Roosevelt in Vaughn Love's Memoir); b. Bessemer, Alabama; African American; High School education; Steel Worker; Domicile Buffalo, New York; Non-Party; Sailed April 10, 1937 aboard the Rotterdam; Arrived in Spain on May 5, 1937; Served with the XV BDE, Washington BN, Co. 3, Section 2; Lincoln- Washington BN; Served at Brunete, Deserted September 15, 1937 along with Sol Feldman, Murray Krangel and Henry Plotnick and was returned to the XV BDE under guard; Served at Fuentes de Ebro, and the Retreats; Believed to have been killed in action during the Ebro Offensive.
---
Sources: Washington; RGASPI Fond 545, Opis 6, Delo 849, ll. 4, Special List for Personnel Service, Deserters List of Those Now in Spain, January 16, 1938; Opis 6, Delo 913; Opis 6, Delo 913, ll. 38; USSDA; African Americans; Vaughn Love unpublished Autobiography [Hunter is identified in one version as Roosevelt Johnson]. Code A
---
Photograph: John Hunter, December 1937. The 15th International Brigade Photographic Unit Photograph Collection; ALBA Photo 11; ALBA Photo number 11-0929, Tamiment Library/Robert F. Wagner Labor Archives. Elmer Holmes Bobst Library, 70 Washington Square South, New York, NY 10012, New York University Libraries.