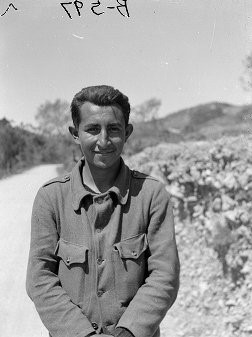 Biography
Murra, John Victor. (Lipschitz, Isak); b. August 24, 1916, Odessa, Ukraine, Russia; Russian/Ukrainian American; Jewish; father Abram Lipschitz mother Asna Bialik; Graduated from the University of Chicago in 1936; Married; Archeology Student; YCL 1933, branch president (No party affiliation); Domicile 3802 N. Kenneth Street, Chicago, Illinois; Sailed February 20, 1937 aboard the Ile de France; Served with the International Brigade's apparatus in Perpignon, France; He assisted in the smuggling of volunteers into Spain; Entered Spain in April 1937; Attached to Estado Mayor of the IB in Albacete as a clerk, interpreter and aide to Bill Lawrence, Will Paynter, Wally Tapsell and Bob Kerr; Later worked with a Bulgarian Cadre Officer; Transferred to XV BDE, Lincoln-Washington BN, Co. 3; Rank Cabo; WIA July 28, 1938 Ebro Offensive; After recovery through February 1939 Estado Mayor; Received an Honorable Discharge from the Republican Army; Spent time in Argeles Sur-Mer concentration camp in France, when freed went to Le Havre; Returned to the US on June 3, 1939 aboard the President Harding, returned on QIV 20 issued May 22, 1939 in Le Havre; WWII Civilian, rejected on three occasions by selective service due to wounds suffered in Spain; Wife Virginia Murra; d. October 16, 2006, Ithaca, New York.
---
Sources: Cadre; Pay; RGASPI Fond 545, Opis 6, Delo 1006, ll. 23; ALBA 078 John V. Murra Papers [deals with his post war activites].
---
Photograph: John Murra, Lincoln-Washington, May 1938. The 15th International Brigade Photographic Unit Photograph Collection; ALBA Photo 11; ALBA Photo number 11-0221. Tamiment Library/Robert F. Wagner Labor Archives. Elmer Holmes Bobst Library, 70 Washington Square South, New York, NY 10012, New York University Libraries.