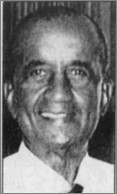 Biography
White, John Wesley, Jr. b. May 1, 1910, Meridian, Mississippi; African American; Never in Spain; Father John Wesley White (1875-?), mother Annie Elmira Carr (1885-?); Single; No passport issued: Domicile 805 St. Nicholas, NYC; Sailed August 22, 1938 as a stowaway aboard the Normandie; Arrested in France he served two months in jail before being deported to the US; Was traveling with Vernon Masten Beebe, James Garrett, Marshall Hartzell, Willam Joseph Holland, Walter B. Iczek, Bernard Kaplan, Israel Luckonick, Gerald McManus (aka Jerome Josephs), David Parker, and Henry Louis Ulanoff; Arrived in the US on October 25, 1938 aboard the Ile de France; Wife Elizabeth Julian White (1911-2007), daughter Bettye Stuckey; d. June 6, 1993, Baltimore, Marlyand, cremated and buried in St. Mary's Cemetery in Wilkes-Barre, Pennsylvania.
---
Siblings: sisters Wihemina White (1906-?), Tenney White (1907-?), Katie White (1909-?), and Fannie Mae White (1912-?).
---
Sources: USSDA (see Beebe file); Obituary The Baltimore Sun June 19, 1993; L-W Tree Ancestry. Code A
---
Photograph: John Wesley White, 1985, L-W Tree Ancestry.