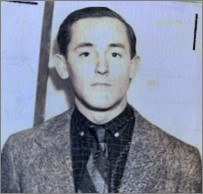 Biography
k-Cookson, John Wilhelm
b. April 21, 1913, Cobb, Iowa County, Wisconsin; Father Alfred Cookson b. Jan. 10, 1889, Stackport, England; Single; Teacher; Graduate Assistant at the University of Wisconsin; CP; Received Passport# 361547 on January 14, 1937 which listed his address as 701 West Johnston Street, Madison, Wisconsin; Sailed January 23, 1937 aboard the
Champlain
; Served with the XV BDE, Washington BN, Estado Mayor, Transmissions; Later to BDE Transmissions; Rank Alferez; Killed in action September 12, 1938, Sierra Caballs, Ebro Offensive; Buried in Marsa, Spain; His grave was maintained and hidden from authorities during the Franco Regime.
---
Source:
Scope of Soviet Activity; Cadre; Pay; Washington; USSDA 2:0466; L-W Tree, Ancestry; Juan María Gómez Ortiz, "Homage to John Cookson,"
The Volunteer
, Volume 24, No. 3, September 2002, pp. 4, 22.
---
The Inimitable by James Ruskin
;
The Volunteer for Liberty
, V2, no. 33, October 6, 1938; reprinted
The Volunteer Blog
, posted January 18, 20119.
---
Photographs:
John Cookson, Passport Photograph, 1937; Wisconsin volunteers (standing) Fred Palmer, John Cookson, and Clarence Kailin. Photograph Clarence Kailin, ALBA/VALB.
---