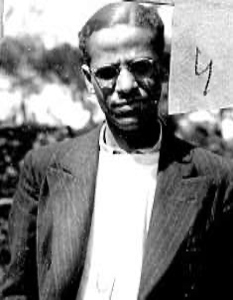 Biography
Snead, Joseph Anthony
. b. July 25 (28), 1912, NYC; Father Herbert Snead, mother Daisy Cooper; African American/Puerto Rican; 3 years Columbia University, NYU Medical School, Omega Fraternity; Served with NY National Guard, 369th Infantry, Medic, PFC 1934-37; Single; Hotel Worker and Fingerprint Expert; Hotel and Restaurant Employee Local #6, Cafeteria Workers Union, CP December 1937; Domicile 1833 7th Avenue, NYC; Arrived in Spain via Massanet on August 31, 1938; September 1- 21 Montblanch 35th Division Training Camp; XV Brigade, Lincoln-Washington Battalion, Service Sanitaire; September 21-23 (3 days); Returned to the US on December 20, 1938 aboard the
Ausonia
; WWII and Korean War, Rank Major; d. November 10, 1986, Los Angeles, California; Buried Riverside National Cemetery.
---
Sources:
Figueres List; RGASPI Fond 545, Opis 6, Delo 992, ll. 1-12; L-W Tree Ancestry; Find-a-Grave# 3850369. Box 2, Folder 23, 177_197042 [List of Names] Moscow Fond 545, Opis 5, Delo 197, ll. 42, Oct. 1938. This is a page from Folder 197: Album of 15th International Brigade Presented to the American Communist Volunteers of the 15th Brigade by the Communist Party of Spain. On a two page spread entitle Declaration of the American Negro Comrades eighteen individuals signed the second page.
---
Biography:
Joseph Snead was born in New York on July 25, 1912. After attending high school and college in the city, Snead enrolled in medical school at New York University. After completing his third year Snead was forced to drop out due to a lack of funds. From 1931-1937 he served in the New York National Guard with the 369th Infantry Regiment. He was a first aid man with the rank of Private First Class. Snead joined the Communist Party in December 1937.He left for Europe to join the International Brigades in August 1938. In Spain, after a short training period, Snead joined the Lincoln-Washington Battalion at the front. He served as a first aid man in the front-line until all foreign volunteers were withdrawn. Snead returned to the United States aboard the
Ausonia
on December 20, 1938. He died in November 1982. ~ Chris Brooks
---
Photographs:
Joseph Snead in Spain. RGASPI Fond 545, Opis 6, Delo 992, ll. 1 and 4.
---