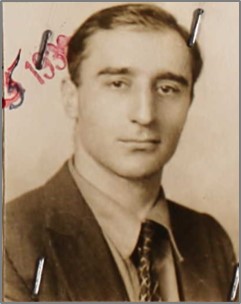 Biography
k-Bianca, Louis Joseph
(Duval, David); b. December 20, 1903, NYC; Italian American; Single; Seaman; CP 1930; 32 years old; Arrived in Spain via Massanet on June 13, 1937; Served with the XV BDE, Lincoln-Washington Battalion, MG Co. Section Leader; Rank Teniente; Killed in action on August 19, 1938, Sierra Pandols, Ebro Offensive.
---
Source:
Cadre; Figueres List (under Duval, David); Inventory North Americans; XV BDE; RGASPI Fond 545, Opis 6, Delo 864, ll. 1-6; Opis 6, Delo 865, ll. 23-26; Italian. Code A
---
"We Couldn't Believe It…" by George Kaye
, Machine gun Co. 58th Battalion, 
The Volunteer for Liberty
v. 2, No. 33, October 6, 1938, reprinted
The Volunteer Blog
, posted December 8k, 2018.
---
Photograph:
Joe Bianca, Darmos Seaman's Protection Certificate, photograph April 1936 (the photograph was also used on the cover of the pamphlet
True Americans
), L-W Tree Ancestry.