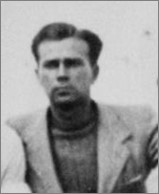 Biography
Benson, Joseph Edward b. November 2, 1909, Brooklyn, New York; Education through the 8th grade; 2 years prior military service with the National Guard; Single; Writer and Stock Clerk; CP 1936 (1935), unemployed director; Received Passport# 417645 in May 1937 which listed his address as 321 69th Street, NYC; Sailed June 4, 1937 aboard the Statendam; Arrived in Spain via Massanet on June 19, 1937; Served with the XV BDE, Mackenzie-Papineau BN; Returned to the US on July 20, 1938 aboard the Champlain; d. August 28, 1989.
---
Source: Sail; Scope of Soviet Activity; Cadre; Figueres List; Inventory North Americans; Mac-Paps; RGASPI Fond 545, Opis 6, Delo 542; L-W Tree Ancestry. Code A
---
Photograph: Joe Benson, from a group photograph of volunteers returning aboard the Champlain.