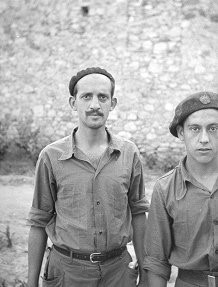 Biography
Hecht, Joseph
b. July 14, 1906, New York; Jewish; Father Jacob Hecht (1850-?), mother Rebecca Hecht (1858-?); Single; Pharmacist; CP 1932; Received Passport# 366617 on February 11, 1937 which listed his address as 637 Saratoga Avenue, Brooklyn, New York; Sailed March 10, 1937 aboard the
Washington
; Attended OTS and graduated in January 1938; Served with the XV BDE, Estado Mayor, Transport; Rank Soldado; Returned to the US on December 20, 1938 aboard the
Ausonia
; WWII US Army, 65th Infantry Division, 260th Infantry Regiment, Tech SGT, killed in action March 18, 1945, Luxembourg, buried in the Luxembourg American Cemetery and Memorial, Hamm, Canton de Luxembourg, Luxembourg
---
Siblings:
brothers Louis Hecht (1877-?), and Henry Hecht (1903-?), sisters Fannie Hecht (1881-?), Sarah Hecht (1890-?), and Rose Hecht (1891-?).
---
Sources:
Sail; Scope of Soviet Activity; Cadre; Pay; RGASPI; L-W Tree Ancestry; Find- a-Grave# 55963345. Code A
---
Biography:
Joe Hecht was amongst the earliest of the American volunteers to take up arms in defense of the Spanish Republic, having arrived in Spain in December 1936. He fought with the Abraham Lincoln Brigade through most of its major engagements, gaining promotion to corporal, sergeant, lieutenant, and captain. Eventually, in the wake of the final Ebro retreat and having done what Alva Bessie reported was more than his share of fighting, Joe Hecht was given the less demanding duty of driving ammunition trucks. Even here he proved inspirational to his front line comrades, and Alva Bessie reported, with grateful remembrance, his dispensing of encouragement, along with comforts such as cigarettes and chocolate, to those he encountered on his ammunition deliveries. Having survived the war in Spain, Joe Hecht returned to the US where he combined a variety of jobs such as factory worker and garage mechanic, with organizational work for the union, for the Workers Alliance, and for the Communist Party. When the U.S. entered the Second World War Joe's politics and his "premature anti-fascist" experience in Spain quickly proved barriers to an appropriate recognition of his acknowledged military talent. After entering the US Army in 1942, Joe's path to officer training was repeatedly blocked and it was not until 1945 that his requests for transfer to an active theatre of war were granted. It was two and a half years after originally joining, that the Army finally sent him to France as a Technical sergeant in command of a platoon. Joe's active service in Europe was to be short for he was killed in action on March 18th 1945 in Germany. This brief biography has been constructed by Geoff Lawes from a tribute written by Alvah Bessie and published in the May 29, 1945 edition of
New Masses
.
---
Photograph:
Joseph Hecht, chauffeur of Commissariat, June 1938. The 15th International Brigade Photographic Unit Photograph Collection; ALBA Photo 11; ALBA Photo number 11-1311. Tamiment Library/Robert F. Wagner Labor Archives. Elmer Holmes Bobst Library, 70 Washington Square South, New York, NY 10012, New York University Libraries.; RGASPI Fond 545, Opis 6, Delo 908.
---