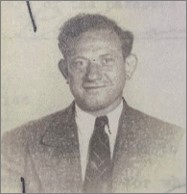 Biography
k-Kleinman, Joseph ("Red"); b. March 4, 1904, Warsaw, Poland, naturalized through father; Polish American; Father Max Klienman (Polish, naturalized March 1920); Single; Tailor, Garment Worker; CP September 1928; Received Passport# 7732, New York series, on July 3, 1937 which listed his address as 2700 Bronx Park East; Bronx, New York; Sailed July 7, 1937 aboard the Queen Mary; Arrived in Spain via Setcases on July 18, 1937; Served with the XV BDE, Lincoln-Washington Battalion; Rank Sargento; Reported WIA Retreats; Killed in action September 17, 1938, Sierra Caballs, Ebro Offensive.
---
Source: Scope of Soviet Activity; BN 58 Retreats; Cadre; Figueres List; XV BDE; RGASPI; USSDA 2:0688, 56:0550; ALBA 271 Joseph Kleinman Papers; (death) Carl Geiser, Prisoners of the Good Fight, p. 233.
---
Biography: Joseph Kleinman was born on March 4, 1904 in Warsaw, Poland to parents Joseph and Rose Burachowitz. The family settled in the Bronx, New York where Kleinman attended primary and technical school and later worked at the New York Edison Company. He became active in the Bronx Workers Cooperative, serving as secretary of the executive committee in 1927. In September 1928, Kleinman formally joined the Communist Party, Section 2, and served as an organizer, committee member and delegate to local and regional meetings. Active in the labor movement, Kleinman was arrested several times for his participation in strikes between 1926 and 1930. Immediately before volunteering for combat in the Spanish Civil War, Kleinman was employed as a tailor at Miss Style Coat Company on West 38th Street, New York and became a member of Local 112 of the International Ladies Garment Workers Union (ILGWU). For a year and a half, Kleinman served as a delegate for the local. On July 2, 1937, Kleinman departed America for Europe. After spending some time in Paris, he traveled to Spain, arriving at Albacete, where he joined the newly merged Lincoln-Washington Battalion ca. July 24th. In March of 1938, he suffered a wound in his right arm, which confined him for some weeks to a hospital. Upon recovery he was reassigned to a new unit stationed in Barcelona. Kleinman died in September 1938 at Sierra Caballs. - Courtesy of Tamiment Library, NYU.
---
Photograph:  Joseph Kleinman, Passport Photograph, 1937.