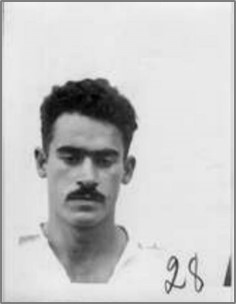 Biography
Gross, Joseph Louis b. February 23, 1914, New Bedford, Massachusetts; Married; Driver and Laborer; CP July 1937; No Passport issued, came to Spain on a Spanish passport under the name Santiago Escugero; Domicile 25 McKibben Street, and 101 Polanski Street, both Brooklyn, New York; Arrived at Figueres via Massanet on March 6, 1938; On to Albacete on March 11, 1938; Served with the XV BDE, Estado Mayor, Observer; Rank Cabo; Returned to the US on December 20, 1938 aboard the Ausonia; d. April 1987, Monsey, New York.
---
Sources: Scope of Soviet Activity; Figueres List; Pay; RGASPI Fond 545, Opis 2, Delo 103, ll. 120 M. Economeides, IB Delegation, Anglo Amer. Sect. Figueras, [March] 10, 1938, to Service of Personnel AngloAmerican section Albacete, Additonal information on draft of 11th of March 1938; Opios 2, Delo 303, ll. 245; Opis 6, Delo 36, ll. 99; L-W Tree Ancestry. Code A
---
Photograph: Joeseph Gross in Spain, RGASPI Fond 545, Opis 6, Delo 903.