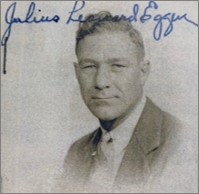 Biography
k-Eggen, Julio Jack Leonard (Egan, Jack; Eggen, Julius Leonard); b. January 21, 1912, Norway; To the US September 3, 1912; Norwegian American; Father John Julinusen (1885-?), mother Signe Eggen (1891-?); 4 years US Navy; Seaman and Construction Worker; CP, Ousted from the Sailors Union of the Pacific; Received Passport# 32923 (San Francisco series, on December 31, 1937 which listed his address as 714 Coronado Street, Los Angeles, California, and San Francisco, California; Sailed on the Britannic, arrived at Havere, France on May 21, 1938; Arrived in Spain via Massaet on May 27, 1938; Served with the XV BDE, Lincoln-Washington BN, Co. 5; Rank Soldado; Killed in action on the afternoon of September 23, 1938 on Hill 287 while commanding a machine gun squad in Company 5 of the Lincolns.
---
Siblings: brother Sigvardt A. Eggen (1914-2014), sister Evelin Eggen (1910-1999).
---
Source: Scope of Soviet Activity; Figueres List; Pay; RGASPI Fond 545, Opis 6, Delo 624, ll. 33-34; Opis 6, Delo 885, ll. 35-41 and 43-44 (under Eggens Julius Leonard,fiche); Miriam Brooks Sherman Papers, Southern California Library for Social Studies and Research, Los Angeles, CA, "Jack Eggan letters to Miriam Brooks from Spain, 1938": Eggan to Brooks September 3, 1938; Eggan to Brooks, and n. d., both in folder; Harold Hoff personal recollection; L-W Tree Ancestry. Code A
---
Photograph: Julius Leonard Eggen, Passport Photograph, 1937.