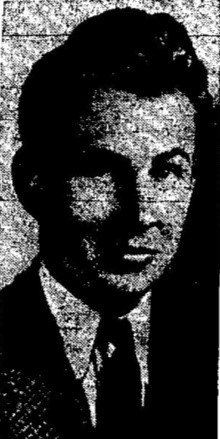 Biography
Reed, Karl Albert. b. August 18, 1916 (August 12, 1915), London, England; English; Seaman; Traveled on Seaman's papers; Domicile RFD No. 3, Hammonton, New Jersey; Sailed September 28, 1937 aboard the President Roosevelt; Reed was part of the crew and left the ship on October 9, 1937 while it was in Le Havre; Arrived in Spain via Espolla on October 12, 1937; Served with the XV BDE; Served at Teruel; Deserted and found a ship in Barcelona boarding on March 3, 1938; Returned to the US on May 8, 1938 aboard the SS Pilcut docking in Boston, along with Gustave Klieger; Wife Margaret Reed (1908-?), son Albert Reed (1938-?); d. September 25, 1962, Philadelphia, chronic alcoholism, cremated.
---
Sources: Sail; Scope of Soviet Activity; Figueres List; USSDA 2:0857, 59:0041; Daily Worker May 31, 1938, p. 2; L-W Tree Ancestry.
---
Photograph: Albert Reed. Photograph from clipping Camden, New Jersey Post, May 13, 1938.