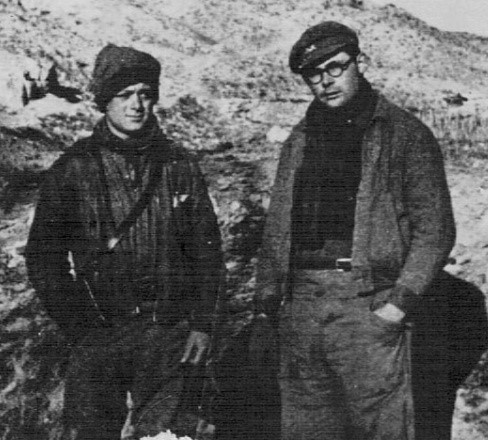 Biography
Cannon, Karl Jacob (Canon; Connon; Carl); b. April 19, 1912, NYC; Russian American; CoB; Attended university for 3 years; Married; Automobile Worker; CP and YCL both 1930 Section Organizer for the YCL; Received Passport# 376691 on March 20, 1937 which listed his address as 352 Batavia Street, Toledo, Ohio; Sailed April 28, 1937 aboard the Aquitania; Arrived in Spain on May 30, 1937 after surviving the sinking of the City of Barcelona; Served with the XV BDE, Mackenzie-Papineau BN; in June 1938 was with the Estado Mayor Instrucion; Last unit Mackenzie-Papineau BN, Co. 4; Rank Soldado; Left September, 1938 with Bill Halliwell but did not sail with Canadian group; Returned to US on the Normandie on September 26, 1937; d. June 25, 1997, Camarillo, California.
---
Source: Sail; Scope of Soviet Activity; Cadre; Mac-Paps; Pay; RGASPI Fond 545, Opis 6, Delo 544, ll. 15 (fiche); Harriman. Hoar, p. 220. Code A
---
Photograph: Saul Wellman and Karl Cannon. Courtesy Saul Wellman.