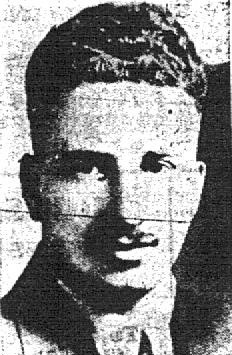 Biography
k-Loewenberg, Karl
. (Lovenber, Carl; Lowenberg, Karl); b. August 1, 1914, Newark, New Jersey; German American; Father Herman A. Loewenberg (1869-1940), mother Fannie Kaiser (1889-circa 1930);
Attended the University of Michigan; Student; Domicile 856 Bergen Street, Newark, New Jersey; Sailed September 4, 1937 aboard the
Champlain
; Arrived in Spain via Massanet on September 16, 1937; Served with the XV BDE, Lincoln-Washington BN; Rank Soldado; Killed in action March 10, 1938, Belchite, during the Retreats.
---
Siblings:
brothers Jacob "Jack" Loewenberg (1915-1997), Emanuel "Manny" Loewenberg, Harry N. Loewenberg (1919-1971), Leo Loewenberg Lowell (1923-1981), and Joseph "Joey" Loewenberg (1928-2015), sisters Beatrice Loewenberg (1915-1925), and Lillian Loewenberg (1925-2014).
---
Sources:
BN 58 Retreats; Figueres List; RGASPI. Code A
---
Photograph:
Karl Loewenberg. Photograph from newspaper clipping.