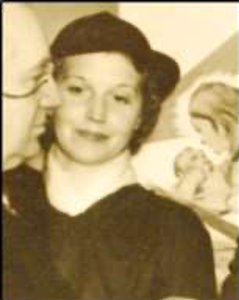 Biography
Purviance, Katherine
. b. March 25, 1907, Comanche, Stephens County, Oklahoma; AMB; Married to Carlton Clarence Purviance; Laboratory Technician; Received Passport# 482591 on October 29, 1937 which listed her address as 720 Texas Street, Fairfield, California; 33 years old; Sailed November 4, 1937 aboard the
Queen Mary
; Part of the 10th AMB Group under Dr. Eloesser; Served with the Republican Medical Services; Returned to the US on September 24, 1938 aboard the
President Harding
; d. September 8, 1944, Rural, Washoe County, Nevada; Died of peritonitis from a ruptured ulcer after 11 days in a Carson City hospital.
---
Sources:
Scope of Soviet Activity, L-W Tree Ancestry. Code A
---
Photographs:
Ave Bruzzichesi, Dr. Edward Barsky, Dr. Frank Thomas Woodburey (former executive secretary of AMB), Katherine Purviance, Dr. Carlton Purviance, Dr. Leo Eloesser, James Neugass, Dr. Weisfield, Frederika Martin Photo 1:1:18:1, Tamiment Library, NYU.
---