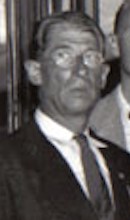 Biography
Kologa, John (Jack); 57 years old; Polish American, Naturalized Court of Hackensack, New Jersey October 1922; Married; Bricklayer; CP 1932; Received Passport# 367869; Sailed March 10, 1937 aboard the Queen Mary; Arrived in Spain on March 25, 1937; Returned to the US on July 20, 1938 aboard the Champlain, listing his address on return as 120 E. 11th Street, NYC.
---
Source: Cadre; Ancestry L-W Tree.  Code A1
---
Photograph: John Kologa, photo from a group photograph taken aboard the Champlain.