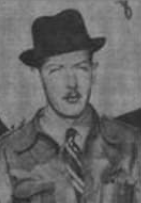 Biography
Doran, Larry Fant
(Duran); b. January 23, 1913, Los Angeles, California; POW; Sailed February 12, 1938 aboard the
Colman
; Arrived in Spain via Massanet on March 6, 1938; Served with the Officer's Training School; Sent to the front during the Retreats; XV BDE, Lincoln-Washington BN; Rank Soldado; Reported MIA Retreats; Captured; Freed February 22, 1940; Returned to the US on March 17, 1940 aboard the
Exiria
; WWII US Army; d. 1965.
---
Source:
BN 58 Retreats; Figueres List; USSDA (under Doran) 2:0500; POW; Anna Marti and Francisco Cabrera, "Escape From Death Row Three Lincoln POWs on Trial,"
The Volunteer
, Vol. 30, No. 4, December 013, pp. 14-17. Code A
---
Photograph:
Lawrence Fant Doran, From a group photograph of POWs on their return to New York on March 17, 1940, Photograph VALB/ALBA.
---