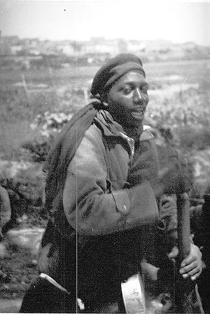 Biography
Dukes, Larry Stratford
b. April 6, 1918, East St. Louis, Illinois; African American; Father Samuel R. Dukes (1893-?), mother Ida Belle Dukes (1895-?), High School education; Single; Driver; YCL 1932 (CP); Received Passport# 366310 on February 9, 1937 which listed his address as 4500 Fireworks Street, East St. Louis, Illinois, and 3431 Cozens Street, St. Louis, Missouri; Sailed February 20, 1937 aboard the
Ile de France
; Arrived in Spain on June 2, 1937, believed to be aboard the
City of Barcelona
; Served with the Albacete Auto Park on July 15, 1938 sent to 45th Division, 14 BDE, and XV BDE, Lincoln-Washington BN, Co. 3; Later Mackenzie-Papineau BN, Co. 1; Served at Madrid, Fuentes de Ebro, and The Retreats; WIA Mora de Ebro in the left leg; Deserted the BDE on 16 or 17 July 1938 and went to a rest home in Santa Coloma without military or medical permission; Returned to the US on December 15, 1938 aboard the
Paris
; WWII Civilian; d. November 6, 1981, St. Louis, Missouri; Buried in Calvary Cemetery, St. Louis, Missouri; Had a bad evaluation, accused of desertion.
---
Source:
Sail; Scope of Soviet Activity; Cadre; RGASPI Fond 545, Opis 6, Delo 884, ll. 41-46; Effectives List; African Americans; L-W Tree Ancestry; Find-a-Grave# 50476299. Code A
---
Biography:  Larry Stratford Dukes was born in East St. Louis, Illinois on April 6, 1918. His father, Sam Dukes, was an entrepreneur who ran an express rail business but this activity was merely a front for robbing trains. Indicted in 1918 for interstate theft, Sam was found guilty and sentenced to a fourteen-year prison term that he began to serve in 1921. While awaiting the start of his prison term, Sam Dukes moved the family to a farm in Middle Branch, Ohio where he began recruiting African-Americans into an organization later known as the National Negro Cooperative League of North America. Following his release from prison, Sam returned to East St. Louis where he joined the Communist Party and rose quickly in its ranks, running as the Party's candidate for a Congressional seat in 1935. Larry Dukes was a mechanic and joined the Young Communist League in 1932. He sailed for Europe aboard the Ile de France, on February 20, 1937. In Spain, Dukes served as a truck driver and later as an infantryman. He was wounded in the right leg at Mora de Ebro. After his return to the United States on December 15, 1938 aboard the Paris, Dukes resumed his Communist activities. During World War II he attempted unsuccessfully to enlist in the U. S. military. Dukes eventually severed his ties with the Communist party in the late 1950s. He died in St. Louis on November 6, 1981.
---
Photographs: Larry Dukes, November 1937. The 15th International Brigade Photographic Unit Photograph Collection; ALBA Photo 11; ALBA Photo number 11-0654. Tamiment Library/Robert F. Wagner Labor Archives. Elmer Holmes Bobst Library, 70 Washington Square South, New York, NY 10012, New York University Libraries.
---