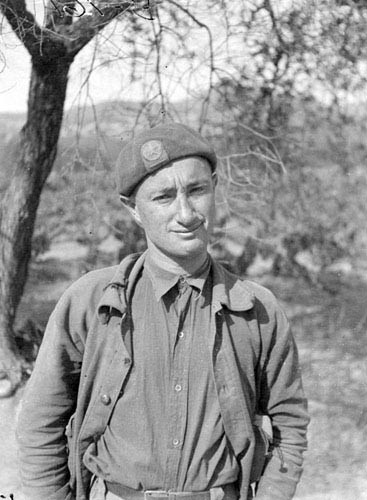 Biography
Cane, Lawrence
(Cohen, Lawrence); b. August 8, 1912, NYC; Graduated from the City College of New York (CCNY); Single; Journalist, Teacher, and Accountant; YCL, CP May 1, 1935; Sailed July 14, 1937 aboard the
Aquitania
; Arrived in Spain via Agullana on July 25, 1937; Served with the XV BDE, Mackenzie-Papineau BN; In September 1938 was serving with the 59th BN, Co. 1, Commissar; Last unit Mackenzie-Papineau BN, Co. 5; Returned to the US on December 20, 1938 aboard the
Ausonia
; WWII US Army, ETO enlisted in Aug 1942; Sent to Officer's Candidate School (OCS) at Ft. Belvoir, VA, in November 1942; Commissioned 2nd Lieutenant, Feb 1943; Promoted to 1st Lieutenant, March 1944; Promoted to Captain, November 1945; Landed Utah Beach with assault wave of Combat Engineers, D-Day, June 6, 1944; Served with US First Army, VII Corps, 238th Engineer Combat Battalion, Company C, Platoon Leader, July 1944-November 1944; Assistant S-2 and then Acting S-2 (Intelligence Officer), Bn staff, Nov 1944-Nov 1945; Earned Silver Star and Croix de Guerre; d. November 8, 1976, Great Neck, New York, buried in Mount Carmel Cemetery, Glendale, Queens County, New York.
---
Source:
Figueres List; Mac-Paps; RGASPI Fond 545, Opis 6, Delo 545, ll. 13 (fiche); ALBA 029 Larry Cane Papers; Harriman; (obituary) Irving Weissman, "Larry Cane – In Memoriam,"
The Volunteer
, December 1976, p. 7; Lawrence Cane (Eds David E. Cane, Judy Barrett Litoff, David C. Smith),
Fighting Fascism in Europe, The World War Two Letters of an American Veteran of the Spanish Civil War
, Fordham University Press, NY, 2003; L-W Tree Ancestry; Find-A-Grave# 95982567. Code A
---
Lawrene Cane (Grace Cane-Mason widow) Interview
, ALBA V 48-027 and 48-028, January 17, 1987, Manny Harriman Video Oral History Collection; ALBA VIDEO 048; box number 3; folder number 23; Tamiment Library/Robert F. Wagner Labor Archives, New York University.
---
Photograph:
Lawrence Cohen (Cane), Commissar, Company 1, 59th Battalion, September 1938. The 15th International Brigade Photographic Unit Photograph Collection ; ALBA Photo 11; ALBA Photo number 11-0253. Tamiment Library/Robert F. Wagner Labor Archives. Elmer Holmes Bobst Library, 70 Washington Square South, New York, NY 10012, New York University Libraries.