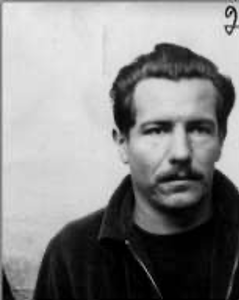 Biography
Spencer, Len Fletcher
. (Joe Baran, Jose Barran); b. September 24, 1914, Pittsburg, Pennsylvania; Father George Baran (1875-1933), mother Anna Baran (1881-1946); Single; Clerk; YCL 1937 (or CP); Received Passport# 29151; Domicile 120 Graham Street, Ashland, Oregon, and 323 Commercial St, Klamath Falls, Oregon; Arrived in Spain via Espolla on July 24 1937; Returned to the US on December 15, 1938 aboard the
Paris
; WWII US Army Air Force, 9th Air Force; Wife Stephanie Baran; d. January 1986, Olmsted Falls, Ohio under the name Joseph C. Baron, buried in Cleveland.
---
Siblings:
brothers Michael Baran (1910-?), Edward Baran (1924-?), step brothers Anthony Baran, John Baran, and Michael Baran.
---
Sources:
Cadre; Figures List; Inventory North Americans (under Baran, Joseph); L-W Tree Ancestr (under Spencer); Find-a-Grave #166867782.
---
Photographs:
Len Spencer RGASPI Fond 545, Opis 6, Delo 861 (under Baran, Joe); from a group photograph taken at Ripoll, 1938, Ken Graeber provided to Bob Reed, photo #7.
---