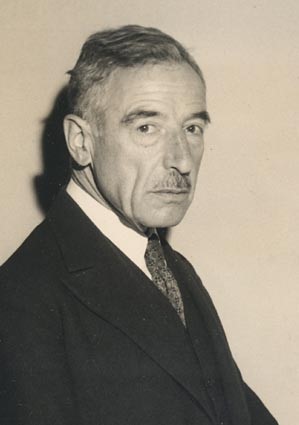 Biography
Eloesser, Dr. Leo. b. July 29, 1881, San Francisco, California; AMB; Prior military service as a Surgeon with the Austrian Army and US Army during WWI; Doctor; Received Passport# 15935, San Francisco series, on October 22, 1935 which listed his address as San Francisco, California; Sailed November 4, 1937 aboard the Queen Mary; Led the 10th AMB Group; Served with the Republican Medical Services; Organized and served with West Coast AMB; Teruel; At wars end was in charge of Hospital at Vich; Returned to the US on July 4, 1938 aboard the Queen Mary; WWII Armed forces, surgeon; d. October 4, 1976, San Francisco, California.
---
Source: Scope of Soviet Activity; OAC, Leo Eloesser Collection; (obituary) The Volunteer, December 1976; Harris B. Schumacher Jr., Leo Eloesser MD Eulogy for a Free Spirit, Philosophical Library; L-W Tree Ancestry. Code A
---
Photograph: Dr. Leo Eloesser in 1947. Photograph Hoover Library.