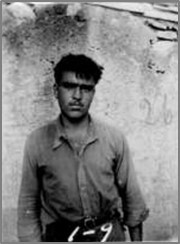 Biography
Herschman, Leon (Hirschmann); b. September 16, 1915, New York; Father Morris Herschman (1893-?), mother Sarah Herschman (18+98-?); 6 months in Mining Engineering University of Alatama; No prior military service; Single; Seaman and Mining Engineer; CP, Alaska Cannery Workers Union (affiliated with Maritime Federation of the Pacific) CIO, No Passport issued; Domicile 806 East 151st Street, NYC; Arrived in Spain via Espolla on January 4, 1938; Trained in Tarazona from January 11 to February 28, 1938; Served with the XV BDE, Lincoln-Washington BN, Plaza Mayor, Scout; Rank Soldado; Served at the Retreats (Belchite-Caspe and Batea-Gandesa) and Ebro Offensive (Sierra Pandolls); Returned to the US on December 20, 1938 aboard the Ausonia; Report by A. de Maio indicates he was arrested at the frontier by Caribineros on September 16, 1938; d. March 7, 1958 in Pacifico Hotel, Ensenada, Mexico, barbiturate overdose.
---
Sibling: sister Rose Herschman (1918-?).
---
Sources: Scope of Soviet Activity; Figueres List; Pay; RGASPI Fond 545, Opis 6, Delo 909, ll. 25-; USSDA 2:0641, 55:0756; L-W Tree Ancestry. Code A
---
Photograph: Leon Herschman in Spain, RGASPI Fond 545, Opis 6, Delo 909.