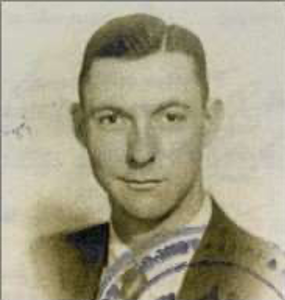 Biography
k-Ticer, Leon Norvell. b. August 16, 1915, Alfalfa, Oklahoma; Father James Hildra Ticer (1885-1946), mother Stella Alice (Pigman) Ticer (1904-1979); Single; Fisherman; Received Passport# 25537, San Francisco series, on March 13, 1937 which listed his address as 120 Embarcadero, San Francisco, California; 21 years old; Sailed April 6, 1937 (March 31, 1937) aboard the Aquitania; Served with the XV BDE, Medical Unit, Driver attached to Lincoln-Washington BN; Captured and executed shortly after being interviewed by journalist William Carney; Executed March 1938, Hijar, during the Retreats.
---
Siblings: brother Louis Archibald "Archie" Ticer (1904-1981), James Marvin Ticer (1917- 1978), sisters Annie Ticer (1910-?), Myrtle Onivia Ticer (1912-1996), and Geraldine Roena "Jerry" Ticer (1919-1993). Cousin veteran Raymond Elvis Ticer.
---
Sources: Scope of Soviet Activity; -USSDA 2:0984, 61:0051; Code A
---
Photograph: Leon Norvell Ticer, Passport Photograph, 1937.