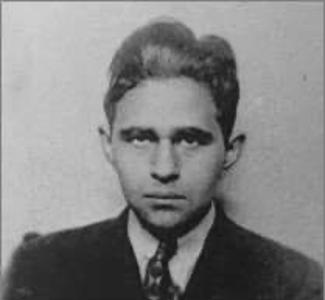 Biography
k-Torgoff, Leon Sloan
. b. December 10, 1915, New York, New York; Jarama Lost Trucks; father Samuel Torgoff (b. 1892 Russia-1985), mother Rose Shonimsky (1892- 1932); Graduated from Lincoln High School in 1932; Attended University of Denver, Brooklyn College, and the City College of New York; Student (ASU) and Writer; YCL; Received Passport# 359279 on December 30, 1936 which listed his address as 629 Ocean Parkway, Brooklyn, New York; Sailed January 26, 1937 aboard the Champlain; Served with the XV BDE, Lincoln BN; KIA February 16, 1937, Jarama, was aboard one of two trucks that strayed into Nationalist lines on the approach march to Jarama.
---
Siblings:
brothers Carl (1919-1989), Irving H. (1923-1987), sister Eva (1924-?).
---
Sources:
Scope of Soviet Activity; RGASPI; USSDA 2:0990, 61:0078; ALBA 109 Leonard Sloan Torgoff Papers. Code A
---
Photographs:
Leon Sloan Torgoff, Passport Photograph, 1936; and from his High School Yearbook, ALBA 109 Leonard Sloan Torgoff Papers.
---