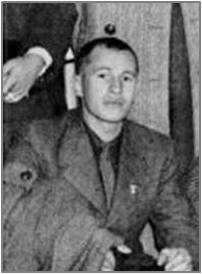 Biography
Berman, Leopold
(Leo); b. February 19, 1913, East Orange, New Jersey; Attended James Madison High School in Brooklyn, New York; Prior military service in the US Navy, completed his enlistment in 1933; Single; Seaman; CP 1937 (No party affiliation); Received Passport# 408409 on May 11, 1937 which listed his address as 1336 East Pratt Street, Baltimore, Maryland, and Boston, Massachusetts; Sailed May 29, 1937 aboard the
Britannic
; Arrived in Spain via Massanet on June 14, 1937; Served with the Artillery, 11th Regiment, 2nd Group, 14th Battery (John Brown Battery), 155mm Guns; Deserted to join XV BDE; XV BDE, Lincoln-Washington BN shortly after Fuentes del Ebro; Rank Soldado; Served at Teruel, Segura de los Baños, and the Retreats; Reported WIA March 10, 1938, Belchite; Captured March 10-17, 1938, Second Belchite; Exchanged October 8, 1938; Returned to the US on October 18, 1938 aboard the
Queen Mary
; WWII US Army and Merchant Marine; d. March 19, 1976, Colma, California.
---
Source:
Sail; Scope of Soviet Activity; Cadre; Figueres List; Inventory North Americans; BN 58 Retreats; POW.
---
Leopold Berman
(Millie Berman widow), ALBA V 48-016  undated, Manny Harriman Video Oral History Collection; ALBA VIDEO 048; box number 2; folder number 23; Tamiment Library/Robert F. Wagner Labor Archives, New York University.
---
Photograph:
Leopold Berman from a photograph of returning POWs aboard the Queen Mary, October 8, 1938.