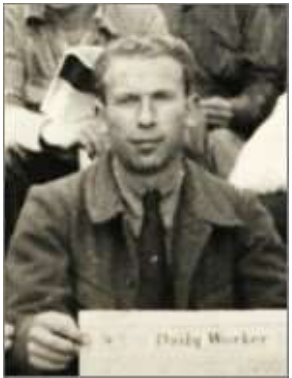 Biography
Gittelson, Lester (Lazarus); b. March 6, 1912, NYC; Single; Dancer and Model; CP and YCL both 1935 (1936), Spanish CP, CPC, ALWF; Received Passport# 367419 on February 15, 1937 which listed his address as 244 E. 15th Street, NYC; Sailed February 20, 1937 aboard the Ile de France; Arrived in Spain on March 14, 1937; Served with the XV BDE, Washington BN, Co. 1, Plana Mayor; Served at Brunete, evacuated for heart condition and hernia; Medical commission found him unfit for front line service; Appointed Director of Culture for English speaking volunteers in Benicasim; Political responsible in Olot; Returned to Quebec, Canada on September 11, 1938 aboard the Aurania then crossed into the US; WWII Army Air Corps in Italy; d. July 18, 1984, of lung cancer, buried in Potters Field, Hart Island, Bronx County, New York.
---
Sources: Sail; Scope of Soviet Activity; Cadre; Washington; RGASPI Fond 545, Opis 6, Delo 896, ll. 61-69; L-W Tree Ancestry, Find-a-Grave# 109841135; oral history Miriam Gittelson Audiotape, Tamiment Library, http://digitaltamiment.hosting.nyu.edu/s/nyaw/item/1897 Code A
---
Photographs: Lester Gittelson, in Spain with wounded volunteers, Family photographs.
---