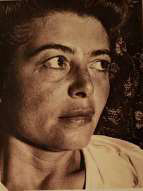 Biography
Fuhr, Lini Moerkirk
(Linni DeVries, Leua Moerkirk); b. July 1, 1905, Patterson, New Jersey; AMB; Nursing Home Training Program 1925-28; Widowed, husband Wilbur Fuhr (1904-1931); Nurse; CP; Received Passport# 9002 on April 21, 1933 which listed her address as 425 West 12th Street, NYC; Served in the Medical Services for three months before being repatriated; Lini Fuer married Lou Stouman on January 10, 1944 in NYC; Daughter Toby Stoutman (1946-?); Moved to Oaxaca, Mexico in the 1960s where she taught; Served as a public health nurse, and wrote
Up From the Cellar
; d. March 27, 1982, buried in Fair Lawn Memorial Cemetery, Fair Lawn, New Jersey.
---
Sources:
Scope of Soviet Activity; RGASPI Fond 545, Opis 6, Delo 893, ll. 1-2; ALBA 001 Fredericka Martin Papers -Typed Diary; ALBA 272 Lini M. De Vries Papers; L-W Tree Ancestry; Find-a-Grave #194000534; Lini M. De Vries,
Up From the Cellar: An Autobiography
, Vanilla Press. Code A
---
Photographs:
Lini Fuhr Papers ALBA 272. Right: Lini Fuhr nursing Robert Raven after his wounding at Jarama, Frederika Martin Collection ALBA 1:2:105 Tamiment Library/Robert F. Wagner Labor Archives. Elmer Holmes Bobst Library, 70 Washington Square South, New York, NY 10012, New York University Libraries.
---