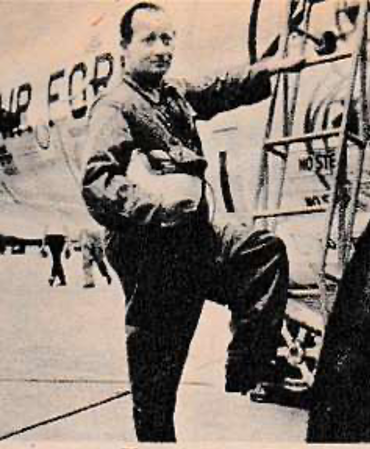 Biography
Mallan, Lloyd. (Mallem); b. June 27, 1914, Pittsburgh, Pennsylvania; Single; Artist; CP 1932; Received Passport# 472469 on August 24, 1937 which listed his address as 5860 Forward Avenue, Apartment 5, Pittsburgh, Pennsylvania; 24 years old; Sailed September 8, 1937 aboard the Manhattan; Arrived in Spain via Massanet on September 19, 1937; Returned to the US in April 15, 1938 aboard the Manhattan; Married Rose T. Mallan; d. February 11, 1973, Palm Beach, Florida.
---
Sources: Sail; Scope of Soviet Activity; Cadre; Figueres List; USSDA (under Mallan) 2:0746, 57:0314. Wrote: Men, Rockets and Space Rats, Messner; Supersonic Project Officer (McKay); Secrets of Space Flight, Fawcett; Space Satellites, FB; Guide to Astronomy (FB); and Russia and the Big Red Lie, Fawcett Publications, 1959. Code A
---
Photograph: Lloyd Mallan from his book Russia and the Big Red Lie, 1959.