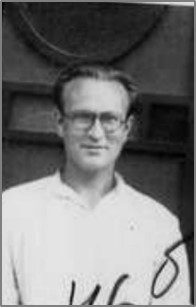 Biography
Gnepp, Louis (Gneppe); b. January 25, 1916, Philadelphia, Pennsylvania; Father Joseph Gnepp (1889-?), mother Pauline Gnepp (1893-?); No prior military service; Primary school education; Single; Salesman and Driver; CP April 1936; Received Passport# 368502 on February 20, 1937 which listed his address as 31 South 58th Street, Philadelphia, Pennsylvania; Sailed March 10, 1937 aboard the Washington; Arrived in Spain on April 22, 1937; Served with the Albacete Auto Park; transferred to Service Sanitaire June 17, 1937, driver, conducted evacuations from RR at Albacete; December 7 transferred to Group of Evacuation #1, Tarragona; December 29, 1937 he was serving with the 1st BN of the Garibaldi BDE, 45th Division; March 25, 1938 transferred to Auto Park Albacete and Casteldefels; May 1938 transferred to XV BDE, Lincoln-Washington BN, Co. 3; Rank Soldado; Served in the Ebro Offensive; WIA July 30, 1938, hit in the calf of his left leg, hospitalized Bona Nova 10 days, Mataro Hospital 10 weeks; Returned to the US on December 15, 1938 aboard the Paris; WWII US Army, enlisted October 24, 1943 and was discharged February 28, 1944; Married Margaret Gnepp, son Armen Gnepp; d. May 18, 1985, Union Township, New Jersey.
---
Sibling: Frank Gnepp (1918-?).
---
Sources:
Sail; Scope of Soviet Activity; Cadre; Pay; RGASPI Fond 545, Opis 6, Delo 897, ll. 46-54; Opis 6, Delo 904, ll 2 (ver gen amer); L-W Tree Ancestry. Code A
---
Photographs:
Louis Gnepp in Spain, RGASPI Fond 545, Opis 6, Delo 897.; and detail from a group photograph taken aboard the
Paris
; December 1938.
---